What are Dynamic Tags and how do you use them? Find out in this article
Dynamic tags are variables you can use in the custom and default (XML) templates for all the channels: Facebook, Instagram, Google Search, Google Banners and LinkedIn. These tags automatically integrate the information pre-set in your template or send via the XML. By creating a template with these variables, all you need to do is fill in the campaign details or integrate your XML and the campaign is all set.
Currently, we are offering the following dynamic tags:
For all of our campaign types:
%%company%% -> we will use the name given to

the workspace

as the company name.
%%job_title%% -> the

campaign title

will be used as the job title.
%%city%% -> the

campaign targeting location

is selected as city.
If you are using your XML to create campaigns, the mapping will be done automatically.
An example of what a potential ad could look like with dynamic tags: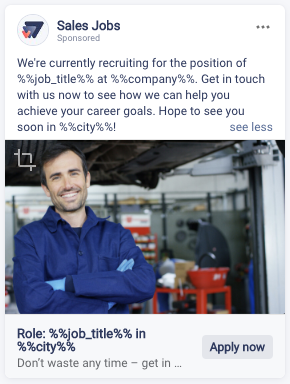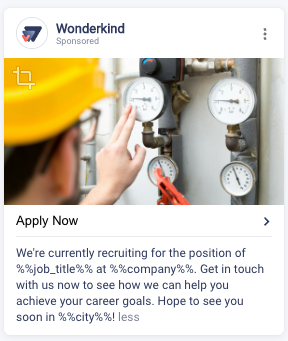 When you are making use of Facebook Lead Form, we recommend using our functionality Facebook Lead Form Templating. In this type of templating we are offering two more dynamic tags for campaigns created by XML integration:
%%description%% -> if your XML contains textual information that you want to insert in your Facebook Lead Form you would be able to use this dynamic tag.
%%url%% -> This dynamic tag will be filled in with the given landing page of the campaign. As the applicant applies in the interface of Facebook they will be directed to this %%url%%.
Example of a Lead Form with dynamic tags: