Why should you use Facebook Lead Form and what are the advantages and disadvantages? Also, find out some tips & tricks.
Why should you use Facebook Lead Form?
With Facebook Lead Form candidates no longer have to fill in all the information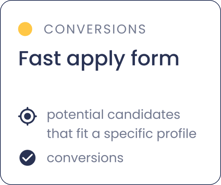 that is required for most vacancy pages. Candidates are already logged into their Facebook accounts, so most information is pre-filled. You are able to attract candidates that wouldn't respond to your own vacancy page. Next to that, you are able to create custom questions for more quality candidates or a simple form for quantity candidates. Finally, it is multi-usable; for recruitment or information days, or a subscription for more information about your company is also possible with Facebook Lead Form.
Advantages
Disadvantages

Get candidates via the Facebook page
Quick apply page
New functionality
Blue-collar market
Possibility to add a language

No connection with your ATS by default
Passive candidates that need a quick and secure follow-up
Lead form tips & tricks
Show the value of working at your company in the ads and why they should share their data with your business.
Keep your questions simple.
Ask as few questions as possible.
Ask relevant questions.
Reflect your Employer Brand in your ads.
Combine it with an Employer Brand campaign to get more leads.
Reply fast to your incoming candidates.
Don't miss any incoming candidates by setting your notifications in your Facebook page manager.
Questions that are not accepted by Facebook, please refer to this article