In Launch, there are different ways to check the budget spend per campaign: in the campaign dashboard and the campaign report. Read this article to get more info on how to find it.
Campaign Overview
To quickly check the campaign spend, locate the campaign in Launch and look under the 'Budget' column.

Campaign Dashboard
By selecting a campaign you can see the performance results in the dashboard. At the top, you can see the results from all the channels combined. The campaign data is updated once every two hours.



Campaign Report
Click on the user settings and a dropdown menu will appear. From here, you will be able to download the 'Campaign Reports'. An extensive report with all the campaigns on the account will be downloaded. The columns 'Budget' and 'Spend' will indicate the amount spent on the campaign.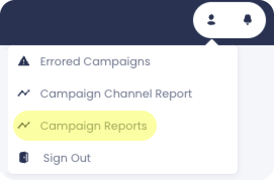 For the budget spend per channel, you can download the 'Campaign Channel Report'.
Please note that for Windows users the CSV file will be extracted in a different format. To change it to an .XLSX file go to this website.
If you have any remaining questions, please contact Wonderkind Support.